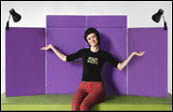 Have you been looking for a quality way to exhibit important information for a business presentation? If so, look no further, we're just the company you've been searching for. In our office in Brooklyn, New York, we construct made-to-order trade show table top display exhibitions. No matter what kind of backdrop you need, we're very confident we'll be able to create it for you, and have it to you quickly. In fact, our table top display boards allow you to change your presentation extremely easily and efficiently. Order ANY SIZE or shape in any of one hundred Velcro loop fabric COLORS. Call us today for more information!
Whether you're searching for a smaller exhibition stand or a larger one, we surely have an appropriate option for you. Our table top display boards are constructed very carefully to ensure that they remain as lightweight as possible, allowing for portability and convenience, but also large enough to hold all of your needed information. The Velcro is attached not only on the panels themselves, but also the sides and top of the boards. As a result, you can use our products to create practically any kind of table top trade show displays imaginable. Please continue to read to find out more!
Do you find yourself frequently frustrated by working with flimsy or inferior materials that do not hold up well? If so, we're exactly the company you've needed to find! Our trade show table top display options are custom made to order. No matter what your specific needs, we're extremely confident that we'll be able to help you out and give you the product that you need. In fact, our table top trade show displays have been used in so many different kinds of situations that the sky's the limit. Whether you need a particular exhibition frame constructed for an ongoing event, or you need something more portable, we can provide exactly what it is you're envisioning. Your satisfaction is our highest priority, and we'll do whatever it takes to ensure you are given exactly what you need at the price you deserve. Get rid of the inferior display, and have one created just for your specific needs today!